Phejin Konyak
Is the great granddaughter of a tattooed headhunter Ahon, who was one of the first interpreters during the "Diaries of Two Tours in the Naga Hills" 1923 written by JH Hutton, the first ethnographer to venture into the Naga Hills during the time of the British Raj. Phejin lives in Shiyong village, Mon District, Nagaland, India.
Besides running the farm and receiving guests in her homestay she travels to the remote corners of mon district to document the tattoo tradition of her tribe. Together with photographer Peter Bos they have documented all the tattoo patterns used in the old ways by the Konyaks.
As an insider, it makes it special and personal for her to write the story of her forefathers. This is the first time such kind of intensive research and documentation on tattoo art has ever been done.
About the Book
A personal journey of a Konyak woman who retraces the steps of her grandfather and great-grandfather by documenting the tattooing practice of the Konyaks – a once fearsome headhunting tribe of Nagaland in India, well known for their iconic facial and body tattoos.
For the first time this book compiles the most intensive research and documentation that has ever been done on tattoo art. It explores the Konyaks' concept of beautification of the body through tattoos, in which the body is understood as a canvas for body art, with inscriptions marked on the skin as a form of rite of passage and cycle of life.
This book captures the unique but vanishing practice of the tattooing culture together with the tattoo patterns, their meanings and oral traditions, such as folktales, songs, poems and sayings. It includes descriptions and information on the headhunting and tattooing practices; reasons behind it, techniques used, tattoo artists, different tattoo groups, types of tattoos and personal stories, visually interpreted with illustrations and photographs.
For more information go to:  www.tattooedheadhunters.com
The book is available on Amazon.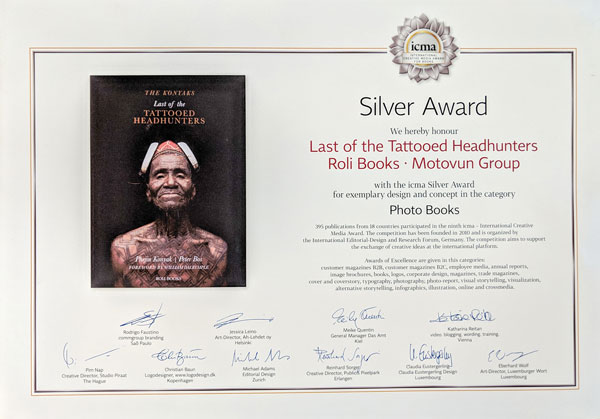 With delight we announce that the book has won two awards: "Best Illustrated Book of the Year" by Publishing Next Industry Award 2018, India and the Silver in the Photo Books category by the International Creative Media (icma) at the London Book Fair.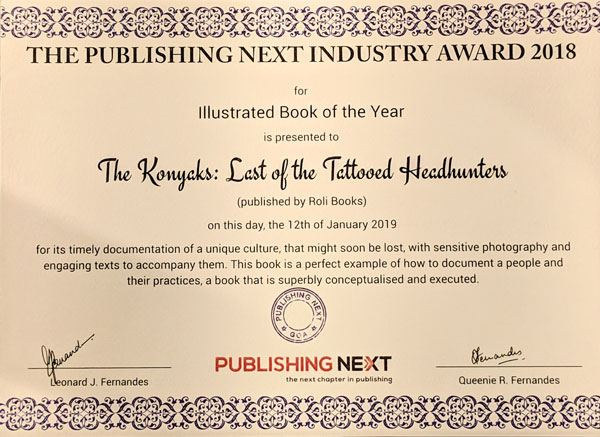 "For me I take personal initiative to interact with my guests and try to see and check that they are comfortable while staying in my care. Also I try to give my guests experiences that they haven't experienced before by showing around the tea estate and surrounding villages nearby and also to interact with the locals as this is a unique experience to walk into a workers hut during the day when they are out working in their fields and share cups of tea with them chatting and laughing away,or to go visiting them in their homes in the village."