Phejin Konyak
Is the great granddaughter of a tattooed headhunter Ahon, who was one of the first interpreters during the "Diaries of Two Tours in the Naga Hills" 1923 written by JH Hutton, the first ethnographer to venture into the Naga Hills during the time of the British Raj. Phejin lives in Shiyong village, Mon District, Nagaland, India.
Besides running the farm and receiving guests in her homestay she travels to the remote corners of mon district to document the tattoo tradition of her tribe. Together with photographer Peter Bos they have documented all the tattoo patterns used in the old ways by the Konyaks.
As an insider, it makes it special and personal for her to write the story of her forefathers. This is the first time such kind of intensive research and documentation on tattoo art has ever been done.
You can read all about it on the website www.tattooedheadhunters.com
Or order the book on Amazon.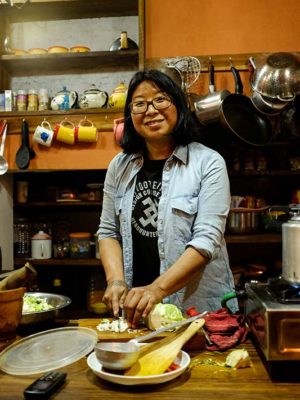 "For me I take personal initiative to interact with my guests and try to see and check that they are comfortable while staying in my care. Also I try to give my guests experiences that they haven't experienced before by showing around the tea estate and surrounding villages nearby and also to interact with the locals as this is a unique experience to walk into a workers hut during the day when they are out working in their fields and share cups of tea with them chatting and laughing away,or to go visiting them in their homes in the village."